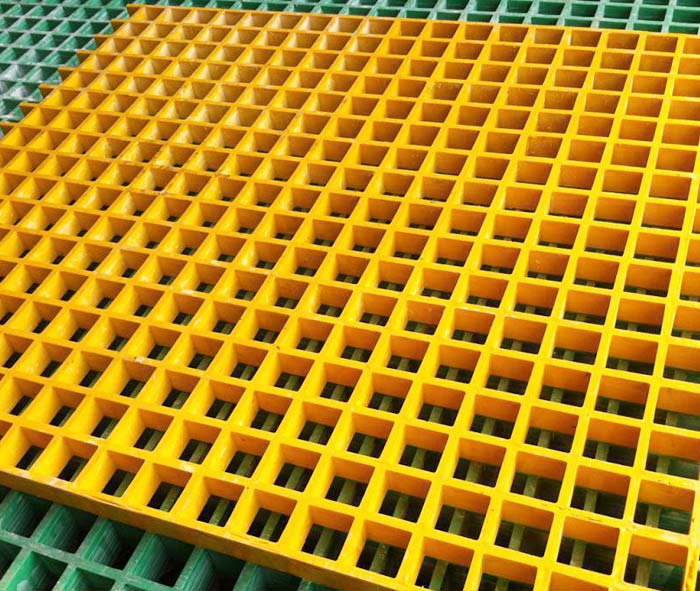 FRP Grating
Application:
Frp grating supplier is a leader in the industry and we will not disappoint you!
Introduction:

Fiberglass reinforced plastic grille (FRP grating) is a kind of plate material with many spaces, which is made of glass fiber as reinforcing material and unsaturated polyester resin as matrix. The glass fiber reinforced plastic grille can be used as structure. Materials used as flooring, trench cover, platforms, ship decks, stairs, plank roads, etc. in corrosive environments.
Application of FRP grating:
-Water treatment: overhaul aisle, gutter cover, large container, washer, trash rack, flow tank, biochemical water treatment tank hanger, ventilation window, stairs, cooling tower console
-Chemical plant: stair raft, operating platform, guardrail, double floor, trench cover, grating
-Petroleum industry: offshore oil platform
-Textile mill: instead of metal grille, wooden platform and covered with cement floor, bleaching and dyeing tank, floor, valve nearby, etc.
-Power plant: chemical water workshop trench cover, wastewater pool, etc.
-Metal surface treatment: pickling place, replacement of wooden floor around machine, high corrosive container, plating line walkway, double floor
-Marine food processing plant: harsh environment such as slippery surface, on board
-Transportation: platforms, ship decks, walkways, military minesweepers, stair seesaws
-Beverage industry: stair rafts, alternative expensive stainless steel, loaded floor
-Pulp and processing plants: Stairs and slabs, floor walkways, places with high humidity
-Electronics industry: trench cover, pickling workshop, anti-static (anti-static grille) and high cleanliness workshop
-Meat processing factory: easy to corrode the ground, stairs, slippery floor workbench and stair seesaw
-Car wash room / car beauty shop: car wash room drainage board, parking space, car wash floor trench cover
-Crane: on the aisle of a 3m or 6m long crane
-Others: corrosion-resistant shelves, decorations, square fountains, scaffolding, civil building facilities, aquaculture fences and double-floors.
Specification:
| | | | | | | |
| --- | --- | --- | --- | --- | --- | --- |
| Thickness (mm) | Mesh size (mm) | Panel size (mm) | Up rib width (mm) | Down rib width (mm) | Open rate % | Panel weight (kg) |
| 40 | 40 x 40 | 1007 x 3007 | 7 | 5 | 64 | 60 |
| 30 | 20 x 20 | 1007 x 4047 | 6.5 | 5 | 40 | 65 |
| 25 | 100 x 25 | 1007 x 3007 | 6.5 | 5.5 | 66 | 35 |
| 25 | 40 x 40 | 1007 x 3007 | 6.5 | 5 | 64 | 33 |
| 25 | 38 x 38 | 1220 x 3660 | 6.4 | 5 | 69 | 52 |
| 38 | 38 x 38 | 1220 x 3660 | 7 | 5 | 69 | 85 |
| 50 | 50 x 50 | 1220 x 3660 | 8 | 6 | 72 | 100 |
| 15 | 50 x 50 | 1220 x 3660 | 6.4 | 5 | 72 | 28 |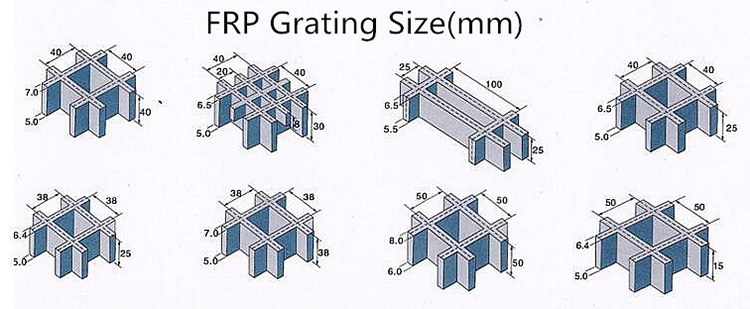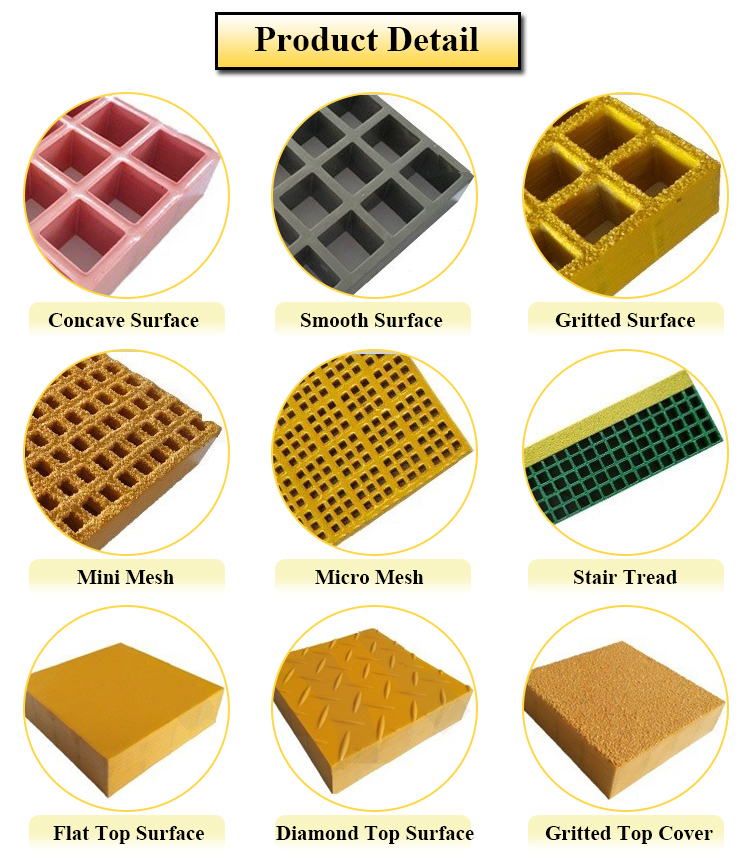 +86 156 3318 0270
+86 131 0338 7269
No. 101 Chunfeng Street, Jizhou District, Hengshui City, Hebei Province, China