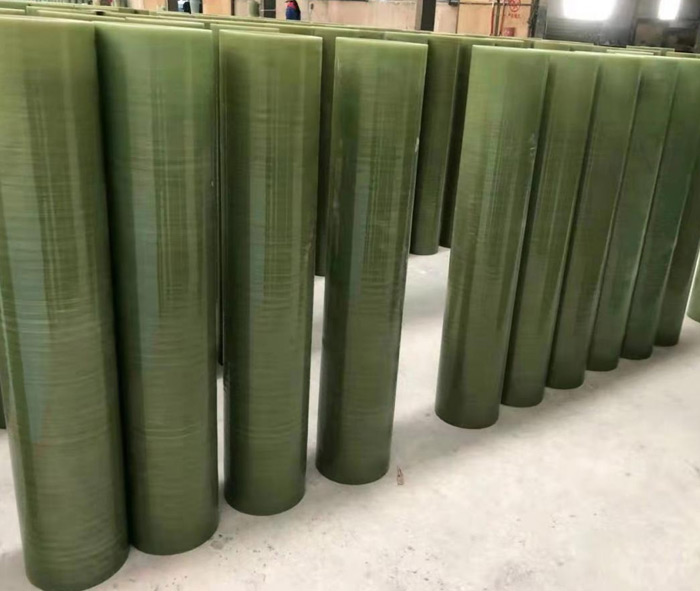 FRP/GRP Pipes
Application:
Glass fiber reinforced plastics (GRP) are a composite material made of a polymer matrix reinforced with fibers. GRP pipes is designed for corrosion resistance, weather resistance, visual inspection friendliness, and durability. For special design requirements, Weitong also offers custom GRP pipe solutions.
FRP Pipes, also named GRP pipes. FRP process pipe is a new type of composite pipe with excellent performance. It has excellent performance that other traditional pipes (metal pipes, concrete pipes, plastic pipes) can't match, and it has the characteristics of corrosion resistance, wear resistance, heat resistance and so on. The glass fiber pipes produced by our company are widely used in the fields of desulphurization, denitrification and seawater desalination. Contact the FRP pipe manufacturer.
Features of FRP/GRP Pipes
1.Corrosion Resistance
FRP pipes are made of a hybrid material that combines glass fiber and polyester resin. FRP is a non-reactive composite with excellent corrosion tolerance, chemical resistance, and weathering resistance.
2.Non-Toxicity
FRP Pipes can be rendered in exact accordance to the laws of forces governing the construction of pipe that will come into contact with potable water and foodstuffs thanks to filament winding processing technologies combined with polymerization and vaporization processes.
3.Hydraulic Efficiency
GRP pipes with a smooth internal surface have a high "c" rating, allowing them to carry a high flow at a low frictional head loss, reducing pumping costs and saving energy.
4.Longer Service Life
The hydraulic design base (HDB) of GRP Pipes is such that it would have a protection factor of 1.8 times its pressure class even after 50 years of continuous operation. In comparison to C.I., STEEL, G.I., and P.S.C. Pipes, GRP Pipes can have a much longer operating life, longevity, and performance at a much lower life-cycle expense.
5.Surge Pressure
Strong surge pressure tolerance in contrast to steel and C.I. pipes, GRP pipes have a greater resistance to surge strain and a higher stiffness, which ensures they have a lower risk of bursting due to water hammer.
6.Lightweight
As compared to other components, GRP pipes have a lower strength-to-weight ratio. It is low in weight due to the use of 1/10 P.S.C., 1/5 steel, and 1/8 C.I. As a consequence, GRP Pipes are simple and convenient to add, manage, change, and fix.
7.Low Thermal & Electrical Inductivity
GRP Pipes have exceptional thermal insulating properties, so they don't need to be coated on the outside to keep the temperature within the pipe constant. For GRP Pipes, cathodic security is also not needed.
Applications
Chlor-Alkali & Chemical Plants

Industrial Water and Wastewater

Mining

Metal Production

Power Plants

Flue-gas Desulfurization (FGD)

Pulp and Paper Mills

Details:
【Specifications】
Inner tube diameter: DN50mm-DN4000mm
【length】
2m, 4m, 6m, 12m
【Pressure Level】
0.6Mpa, 1.0Mpa, 1.6Mpa, 2.5Mpa
Advantage of the FRP Pipe Manufacturer
Fiberglass Tank & Pipe Company welcomes you to our site, especially if you're searching for fiberglass pipe manufacturers.
We are specialized in pipe system solutions for oil and gas, water, and industrial sectors. A major part of our product lines are comprised of high-temperature, high-pressure, anti-corrosive, fiberglass pipes. The array of other products includes tanks, fittings, wet wells, manholes, basins, and so forth.

If you're new to the fiberglass alternative, you'll be glad to know that it is a superior solution compared to the traditional materials. It is eco-friendly, stronger, and bigger than its steel and aluminum counterparts, yet it is lighter, possesses better acoustical features, and is better protected against corrosion. Contact us to get a quote.

Related News

Advantages And Disadvantages Of Stainless Steel Water Tanks And FRP Water Tanks
Advantages of FRP Septic Tanks
We are a manufacturer of FRP and GRP pipes, specializing in FRP pipes for oil field and building applications. FRP Pipe has anticorrosive properties, is simple to mount and transport, has a long service life, and needs minimal maintenance. It's used to transport residential and commercial drainage and wastewater. Welcome to contact us.
+86 156 3318 0270
+86 131 0338 7269
No. 101 Chunfeng Street, Jizhou District, Hengshui City, Hebei Province, China