Mar. 22, 2019
Today we Fiberglass Cooling Towers Exporter come to summarize Structural Characteristics Of Frp Energy-saving Cooling Towers.
Structural features of Fiberglass Mesh For Cooling Tower: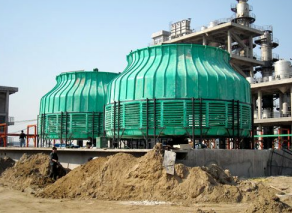 (1) Filler: It adopts the patented product of the four courtyards - the trapezoidal wave filler sheet, the lateral reinforcement of the rib, the redistribution ability of water, the small resistance, the good thermal performance, the high-temperature resistance 70 ° C, the low-temperature resistance -50 ° C, resistance Good flammability.
(2) Motor: Designed by the motor department of Tsinghua University, the patented product of the four hospitals manufactured by Yingmengjin Motor Factory has a variable torque and extremely low noise energy-saving motor. It has good sealing and waterproof performance, high-temperature resistance, high efficiency, and low noise.
(3) Reduction gear: The speed reducer with power ≤11/5.5KW is driven by polyester fiber reinforced neoprene power belt. It is resistant to high temperature and high efficiency. It does not stretch when it meets water, and it overcomes the phenomenon of slipping and has little noise. The speed reducer with power ≥15/7.5KW adopts gear reduction mode, and the motor is installed outside the air cylinder.
(4) Fan: The Department of Engineering Mechanics of Tsinghua University is designed according to the parameters of this series of products with low noise, high efficiency, and wing-shaped High Quality FRP blades. It has low noise, high efficiency, and adjustable blade angle.